With only about 700 mountain gorillas left in the world, seeing them in the wild is something only a few people will ever have the chance to experience. Active african Vacations take yiu for the very best gorilla safaris in Uganda and Rwanda.
Where do we take you on on our Gorilla Safaris?
Our Gorilla Safaris take you to Rwanda and Uganda. About 300 mountain gorillas inhabit an extinct volcanic region called the Virunga Range along the borders of Rwanda, Uganda and the Democratic Republic of Congo (DRC) in East Africa. On our Rwanda Gorilla Safaris you trek one of the different moountain gorilla groups in Parc National des Volcans.
In Uganda, there are two parks where we take you to track the mountain gorillas. These Include Mgahinga Gorilla National Park and Bwindi Impenetrable National Park. Mgahinga is situated on the extreme southwest corner of Uganda on the slopes of the Virunga Mountains while Bwindi is in south-western Uganda and is home to about half of all mountain gorillas.
TOP GORILLA TOURS IN UGANDA AND RWANDA
[row]
[span size="4″]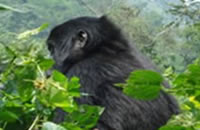 4 Days Bwindi Gorilla Safari
This activity is tiresome. However encountering these great relatives of man on a trek is a memorable experience. Read More
[/span]
[span size="4″]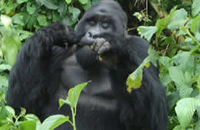 4 Days Gorilla Tracking Safari
These are 4 days of ultimate adventure in Africa's most famous home of to Mountain Gorillas; Bwindi Impenetrable Forest National Park. Read more
[/span]
[span size="4″]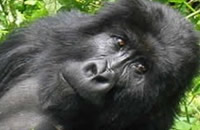 4 Days Gorillas and Chimp Tour
This trip combines the experience of tracking the mountain gorillas and watching chimpanzees at Ngamba Island. Read more
[/span]
[/row]
[row]
[span size="4″]

5 Days Gorillas & Chimp Safari
The 5 days Uganda primates Gorilla safari takes you to Kibale Forest; a home to 13 primates species including chimpanzees!Read More
[/span]
[span size="4″]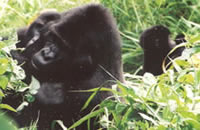 6 Days Gorillas Tour
This is a 6 days Uganda safari involving gorilla Trekking in Bwindi Impenetrable Forest, Wildlife viewing in Queen Elizabeth National Park, Kibale Forest. Read more
[/span]
[span size="4″]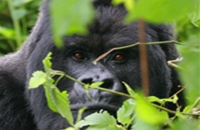 7 Days Uganda Safari Tour
This is a 7 days Uganda safari to Uganda's un-spoilt wildlife destinations to experience Nature at its best. Explore all the best of Queen Elizabeth ….. Read more
[/span]
[/row]
[row]
[span size="4″]

4 Days Uganda Gorilla Trekking Tour
These are 4 days of ultimate adventure in Africa's most famous home of to Mountain Gorillas; Bwindi Impenetrable Forest National Park..Read More
[/span]
[span size="4″]

10 Days Gorillas And Wildlife Tour
These are 10 days of ultimate adventure in Africa's most famous home of to Mountain Gorillas; Bwindi Impenetrable Forest National Park and Wildlife in Queen Elizabeth National Park. Read more
[/span]
[span size="4″]

12 Days Gorillas And Chimpanzee Trekking toyr
This trip combines the experience of tracking the mountain gorillas and watching chimpanzees at Ngamba Island. Read more
[/span]
[/row]