5 DAYS UGANDA CHIMPANZEE GORILLA SAFARI
Safari highlights
The 5 days Uganda primates Gorilla safari takes you to Kibale Forest; a home to 13 primates species which include large communities of Chimpanzee, Grey Cheecked Mangabeys, Black and White Colobus Monkeys, vervet Monkeys, blue monkeys and Olive Baboons among others, and Bwindi Impenetrable forest; a home to 360 Mountain Gorillas. The safari will reward you with unforgettable African wild experience.
ITINERARY
Day 1; Transfer to Kibale.
Early in the morning have breakfast and then transfer to Kibale forest National Park.  The drive will take you through plantations, home stead and green country sides to reach fort portal in the afternoon. Fort portal lies amidst the great Rwenzori "Mountains of the moon". Have lunch and then later in the afternoon go visit the Ndali crater lakes region. Dinner and overnight at Ndali lodge/ Mountains of the Moon / Primates Lodge.
Day 2; Chimpanzee tracking /Nature walk (Bigodi Swamp)
In the morning have breakfast and then go search for chimpanzee in the forest. The park is know to harbour the largest number of primates in the country and therefore you should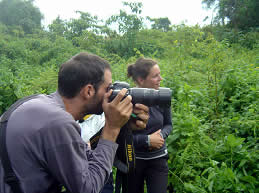 expect other primates like the grey cheeked Mangabeys, black and white colobus monkeys,  baboons and others. The walk in search for chimps will be guided providing information on both fauna and flora, watch out for the Adam tree that has attracted most of the youth population in Uganda. In the afternoon you will go for a nature walk in the Bigodi wetland; an initiative of the local community known for its rich diversity of birds and primates. Dinner and overnight at Ndali Lodge /Mountains of the Moon Hotel / Primate Lodge Kibale.
Day 3; Transfer to Bwindi home of gorillas
Have breakfast to drive off to Bwindi Impenetrable Forest National Park. The drive will take you through the southern sector of Queen Elizabeth National Park. The Ishasha sector will reward you with game enroute; therefore watch out for game like tree climbing loins, Uganda Kob, and birds. Bwindi is most known for its great apes the Gorillas though its also birders paradise with over 340 bird species.  Depending on the time of arrival you may go for a community walk. Dinner and Overnight at Gorilla Resort/ Buhoma Community Bandas (FB).
Day 4; Gorilla tracking
Following breakfast you will transfer to the park headquarters for the briefing before you set off at 9:00 am through the tracks to search for the humble giants. You will
go with packed lunch because it's hard to determine how long it will take you to meet these great apes. However the time ranges between 2-9 hours depending on the movement of the giant primates. The activity is tiresome, it involves walking along steep hilly tracks however encountering these great relatives of man erases all the poor memories/ hardships you went through in trying to find them.  They are awe-inspiring! Dinner and overnight at Gorilla forest Camp / Buhoma community Bandas.
Day 5; Transfer to Kampala
In the morning have breakfast and then drive back to Kampala. You will have stops for lunch and at the equator for photographs to reach Kampala in the evening.
End of Tour.
The quoted price includes
1 A comfortable 4×4 safari vehicle, excellent for game viewing & photographing.
2 Full time English speaking professional driver guide
3 Agreed upon accommodation and meals stated
4 All activities mentioned
5 Gorilla and Chimpanzee permits
6 Airport Transfers
Prices exclude
1 Airfares
2 Entry visas and airport taxes
3 All personal expenditure such as laundry and drinks are excluded.