We offer several Kenya Safaris that take you to select destinations in Kenya, the Magical land of Africa. Join us and explore all what Kenya has with our vacations that have been carefully crafted to include all the best adventure places in Kenya, exclusive lodges and campsites as well as exciting adventure activities. Our Kenya safaris can be tailored to suit your own personal liking. From the Classic short Kenya Safaris, Masai Mara Game Viewing safaris to long Kenya Vacations combining Kenya and ther East African Countries, we have the most memorable trips offered at the best rates!. Tour Kenya with our trusted tour guides who know most of Kenya's interesting places. To take advantage of one of our Kenya Safaris below, and please get in touch and let us know how you would like to experience Kenya, the Magical Land in Africa.
Top Kenya Safari Offers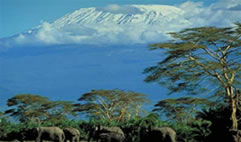 Amboseli Wildlife Safari: (3 Days):

Explore Amboseli, the best place to see elephants in Africa on this safari. Expect unrivalled game viewing where you will see different wild animals that include lions,
buffaloes, giraffes etc
. You can also meet the Masai people on this trip.
Details of the Trip >>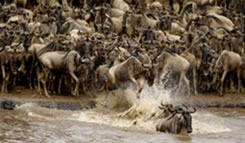 Wildebeests Migration (4Days)
Witness the wildebeest migration, one of the 7 wonders of the world on this safari holiday! See huge herds of wildebeests, Zebras & gazelles moving from serengeti plains, cross mara river, chased after by lions, cheetah & leopards .
Details of the Trip >>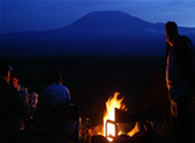 Kenya Wild Camping Safari: (7 Days)
Get on a camping safari in Kenya that will give you a true experience of real Africa wildness. Go birding, enjoy game viewing in seacrh for the Big Five that include lLions, Elephants, Buffaloes, Leopards & Rhinos etc
Read More >>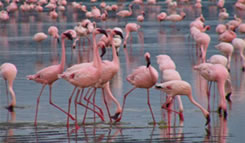 Kenya Birding Safari: (6Days)
Go birding in Kenya's best birding places on this bird watching trip that takes you to Lake nakuru, the best place to see the Lesser Flamingos, Lake Naivasha and Baringo as well as a visit to the Rhino Sanctaury.
Read more >>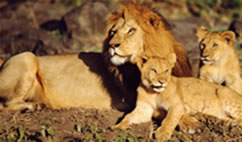 Kenya Wildlife Safari (10 Days):

This big game safari in Kenya features incredible game viewing in Kenya's best national parks; Masai Mara, Tsavo and Amboseli National Parks ending with a beach vacation at the Mombasa Coast.
Read More>>
Mt. Kenya Hike (7 Days):

Hike to the top of Mount Kenya, one of the highest mountains in Africa on this tour. After the hike relax at the affordable high end adventure spas or go wildlife viewing in Kenya's most popular safari parks.
Read More >>
Other Kenya Safaris
3 Days Samburu Camping
3 Days Samburu Lodge Safari
4 Days Masai Mara Lodge Safari
5 Days Kenya Camping Safari
7 Days Camping in Masai Mara Samburu, Nakuru
7 Days Kenya Lodge Safari
8 Days Lodge Safari in Kenya National Parks
5 Days Mount Kenya Hike
6 Days Chogoria Out Timau
6 Days Sirimon Out Chogoria