SELF DRIVE CAR HIRE IN UGANDA
Travel with comfortability and Flexibility
Travel in comfort on any of our self drive vacation packages, with our vehicles. make sure you get safely to your destination..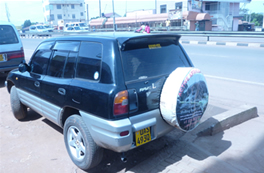 Car rental packages are widely becoming popular for travelers in East Africa and for perfect reasons. As they increase individual Ease and flexibility especially to Non governmental organizations (NGO), Tourists, governmental officials, researchers, students, public institutions, personal oriented travelers. Therefore this option has been introduced to supplement the tailored and scheduled tours, as Self Drive customers will guide them selves with ease. Hence travelers will have more interactive experience with the attractions, such as varying cultures of people, wildlife, and nature right away from the grass root. Active African vacation's itineraries takes you through sceneries of great memorable experience. Our Self Drive vacation package are an excellent option for individuals, couples, small groups and families both foreign and domestic tourists who want to travel across Rwanda, Kenya ,Tanzania and Uganda at their own pace and leisure. We can easily tailor the designed itineraries to suit your vacation days.
Active African vacations takes the leed in servicing the major Uganda,Kenya,Rwanda and Tanzania gateways through its comprehensive Self Drive cars at very competitive market price. All advance planning is handled by our travel experts,. They will go over the itinerary, day by day, giving detailed information on places of accommodation, the route and attractions along the way, as well as offering helpful tips and answering whatever questions you may have.
Below are Some of Our Vehicle Fleet for Drive in Uganda , Rwanda, Kenya or Tanzania.
Rav 4 New Model @ only 55 USD :
Unlimited Mileague,4X4 WD , AC, 5 Doors, Comprehensively Insured,Audio System.